Web-J Live Performance at the Wits Art Museum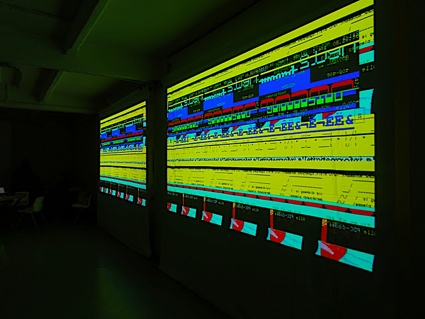 18th Sept, 19:00, Wits Art Museum, Cnr Bertha (ext Jan Smuts) & Jorissen Street, Braamfontien
Following the Free Particle  workshops with Anne Roquigny,  Anne Roquigny and South African Media Artists who participated in the workshops will present a WJ's performance at the Wits Art Museum.  Find other details on partcipating artists and previous performances on the Web-J project site.
WJ-S is a software and a flexible public device for web performances allowing WJs (webjays, artists, curators, web addicts, web mutants) to play live with online text, sound and visuals.  WJs take the control of a multi-screen environment and surf at distance in different browser windows simultaneously. WJ-S is a visible and collective experience of the surf.

The idea of the WJ-S project is to disrupt this tendency by offering a public surf where the feeling of being immersed in the flow and the pleasure of browsing are shifted to a live performance environment. Individual and collaborative online productions (in different geographical sites) become collective events (to which an audience is invited).

Following the steps of DJs and VJs, the WJs (weejays, webjays, webjockeys, etc.) directly draw their sources from the Web and mix the network flow in real time. – big space of creation – numerous possibilities:

The WJ-S productions can take the following forms : performances, demos, presentations of projects, parties, workshops and conferences.